It's that time of the year again. We're all trying to pass our exams, finish the semester and get good Christmas gifts for our friends and family. It's basically impossible! But if you know your friend's or family's love language(s), then it can become a little bit easier. 
Touch~
If your loved ones love language is touch then these gifts are perfect for them! 
Cuddle Puddle: If you're also comfortable with touch, then just cuddling for a while will make their Christmas better. Get some hot chocolate, books, movies or just talk and enjoy each other's company.
Weighted Blanket: If you're not comfortable with touch, then buying them a weighted blanket could be the solution! Weighted blankets help with anxiety, depression, and PTSD, helping people fall asleep easier. Get the right weight for your friend and get them a gift they can use every day! If weighted blankets are too expensive, blankets, in general, are a cozy gift that they will love!
Stuffed Animal: Find out what your loved one's favorite animal is, and buy them a stuffed animal! If you don't know, sloths, teddy bears, and elephants are a good place to start.
Gifts~
If your friends appreciate gifts the most, then Christmas is the perfect season for them!
Chocolate: Need I say more? 
Gift cards: If you're not sure what they would like, then a gift card is the way to go. Find out what stores or restaurants they love and buy them a gift card from there!
Personalized Gifts: This is probably the most important one!! Base your gifts for them around their personal interests and hobbies. It's more meaningful to them, try getting inspiration from the memories you have made with them!
Quality Time~
If they love spending time with you, then here are some ideas for fun activities to do!
Take each other out for a meal: If you both have at least a little money, then take each other out to eat! Pay for their meal and spend time talking to them. Maybe go to a coffee shop or try a new restaurant you've never been to.
Winter activities: It's the Christmas season, so why not treat them to some Christmas hangouts? Try going ice skating with them, even if you don't know-how, it will be funny. Sledding at Charlie's Dump or Zeeland Christian School, or just staying inside, where it's warm, watching movies and baking cookies together. 
Artsy activities: If both you and your friend love crafts or the arts, then have an artsy day together. Sing some Disney duets, bake some homemade cookies or journal together while drinking some hot chocolate. While you're at it, having a deep conversation will make their entire Christmas season so much more enjoyable, giving them a gift and a memory that will last longer than a present.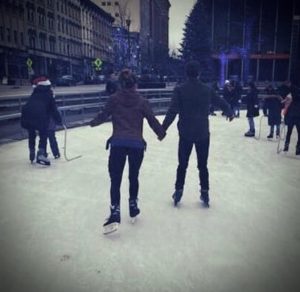 Words of Affirmation~
If your friend loves compliments, and their love language is words of affirmation, try these ideas!
"Open When…": These notes contain different mini pep-talks for different situations. Writing a bunch of these for them will be a gift that they can cherish for a long time, and encourage them when they're feeling down, lonely, or angry.
Handwritten notes: Simply writing personalized notes with specific compliments for them will make them feel loved. Write as much as you can, while keeping it personal and not too broad. If you get them a gift, try focusing more on the card, knowing that it is more important to them.
Reasons You're my Friend: Writing a list of reasons why this person is your friend or best friend and complimenting them will make them extremely happy! Compliment them as much as you can, because that's how they feel most loved.
Acts of Service~
If your loved ones' love language is Acts of Service, doing these things for them or with them will be the perfect gift!
Study Together: Exams are coming up, so helping them study will be a huge help, and probably help them focus on the work they have to accomplish and stop procrastinating. It will probably be good for you too!
Make dinner for or with them: Bringing them dinner or making it with them can be super fun and rewarding. Make a yummy warm dish to help cross one thing off their to-do list. Also, bringing them baked goods or making them with your loved one can be just as rewarding!
Shovel their driveway: It's so cold outside, and with all the snow just dumped on us, they will probably need help. Randomly show up and clean their driveway for them, it will save them from a cold task, and you'll feel like an amazing friend afterward!
Bring them coffee: If your friend or family member is addicted to coffee, bringing them their favorite kind can make their entire week! Get them a hot coffee and talk about life with them, they'll appreciate the thought you put into getting their favorite drink :).
Overall, these are just some ideas! You probably know your friend better than a list does, so personalize these ideas to make the perfect gift for your friend. Remember that no matter how much or little money you have to spend on their gift, the Christmas season is meant to celebrate the friendship you have, so focus on that! Merry Christmas!