After 10 years of annual Artprize competitions, organizers decided to do something different. Project 1 is a new approach to Artprize that they are going to alternate every other year with the famous competition. Instead of lots of artists entering their work in a competition, Project 1 involves a small number of artists who are commissioned to create and display their work around Grand Rapids. This year, 5 artists were selected. The artists' names are Amanda Browder, Heather Hart, Olalekan Jeyifous, Paul Amenta & Ted Lott, and Rafael Lozano-Hemmer. They were chosen by the organizers to work on art that gets the community involved. Project 1 takes place Downtown, Grand Rapids, Martin Luther King Jr. Park, and the Tanglefoot building. It is running through October 27.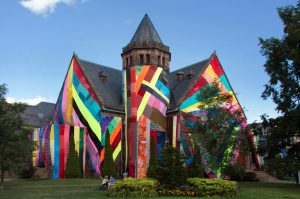 Amanda Browder´s work, Kaleidoscopic, was in all three locations. Covering the skywalk by the Marriot, On the sides of the Tanglefoot building, and covering the community center at MLK Park. Browder invited the community to take part in sewing the fabric together.
Heather Hart´s work, Oracle of the Soulmates, is in Rosa Parks Circle and MLK Park. Her work is the roof of a house built into the ground that you can walk on and performances are happening at her roofs.
Olaleykan Jeyifous´ work, The Boom and the Bust, is on the corner of Louis st and Monroe Ave. It represents the difference between the new buildings and housing in Grand Rapids, and all of the displacement happening as a result.  When I was walking around downtown on a Saturday afternoon I saw firsthand the shiny new buildings towering above many homeless men and women laying down in Rosa Park Circle.
Paul Amenta and Tedd Lott created a public space at the Tanglefoot building that can host performances, shows, and other events.  The focus is on that include the community and disabled people. Some events that have happened could be seen as controversial.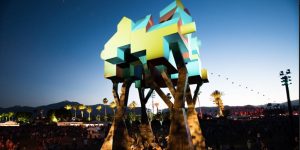 Rafael Lozano-Hemmer created an interactive project on the Blue Bridge, called Voice Bridge, This display involves speakers down either side of the bridge and lights that change based on the intensity of the speakers. You can say something into the Speakers on the ends of the bridge and it will replay that message up and down the bridge.