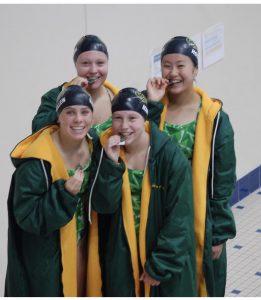 Name: Emily Hoekstra
Sport: Swim
Year: Freshmen
As a new student to Calvin Christian High School, a member of Ambassador High, and now a member of the swim team, Emily Hoekstra is a busy student, but this doesn't stop her from doing her best and qualifying for state as just a freshman!
Emily is an impressive athlete with outstanding times! In recent meets, Emily has made phenomenal times in the 100-meter breaststroke with a time of just 1 minute and 12.47 seconds.  In addition, she swam the 100-meter freestyle in just 56.47 seconds! Most impressive of all, though, is the time the qualified her for state. On October 5 at an Ottawa Hills invitational meet, the freshman swam the 500-meter freestyle in 5 minutes and 35.77 seconds! Quite obviously, Emily Hoekstra is an athlete to keep your eye on.
Among these incredible accomplishments, Emily has skill in the 400-meter Individual Medley, as this is one of her favorites along with the event that qualified her for state, the 500-meter freestyle. According to her teammates, Emily is "a huge asset to our team and a very versatile swimmer." Hoekstra's fun-loving nature and bright spirit have led her teammates to state that "she is a great teammate and a fun person to be around."
Congratulations on a job well done, Emily!