On March 1, 2, and 3, more than 40 of our students performed in this year's spring musical: Mary Poppins. Mary Poppins is the classic story of two young children who misbehave, forcing their parents to get a nanny. Before they can place an ad in the paper, Mary Poppins appears. Mary Poppins is a magical woman who is there to help as a nanny. She had gotten the advertisement that the children had written. Over the course of the play, Mary Poppins teaches the children lessons in respect, manners, and kindness.
The role of Mary Poppins was played by Nicole Gibbard, Bert was played by Jared Ebels, Mr. Banks was played by Luke VanHaitsma, Mrs. Banks was played by Gabrielle Eisma, Jane was played by Gwyn Eisma, and Michael was played by Landon Pasma. The directors were Marilee Marsman (teacher at West Side Christian) and Lauren Gibbard (CCHS class of 2016).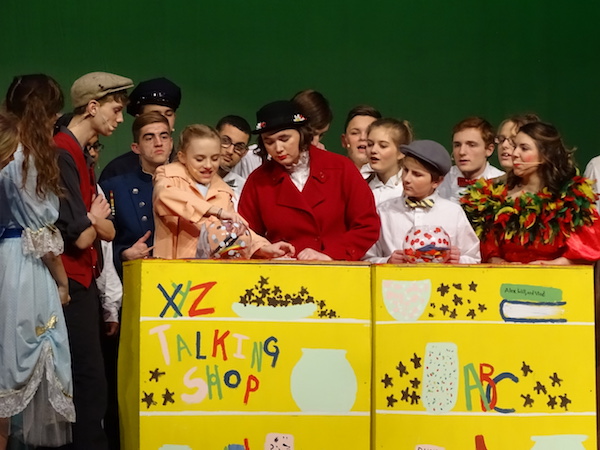 This musical was different from many of the others that the cast had ever experienced. This musical had a lot of difficult choreography, especially for the songs "Supercalifragilisticexpialidocious" and "Step in Time." For "Supercalifragilisticexpialidocious," the actual choreography from the Broadway musical was used for the letters and for "Step in Time," a team of dancers had to learn how to tap dance from a Youtube video. Katie Van Wyhe, a junior, says, "I thought it was really cool. I really enjoyed that we had Broadway choreography for some of our songs, that was really epic. We didn't necessarily stick with our actual choreography for our entire time but what we did do was good."
From all who attended, only positive things were heard. Many parents and people who support Calvin Christian Drama said this was one of the best ones yet. However, there were several small mistakes that couldn't be fixed. Luke VanHaitsma, a junior, noted that "I heard that it was overall good but there was one instance that dropped the illusion of magic. My brother saw the head of someone behind a prop. But other than that, he said it was really good."

Overall, the musical was a joy for the actors to be in and the audience to watch. Despite the few flaws, it has been noted as being one of the best musicals that Calvin Dramatic Society has ever put on. For the seniors who are graduating with this being their last show, many are proud of how far it came. Of the many hours of dedicated practicing in and out of normal scheduled practices, all of them came to be a success.