You may know Mrs. Caldwell from one of your classes. Whether it's art, culinary arts, the science of baking, computer apps, yearbook or graphic design you know she's very enthusiastic. What you might not know is that at first, Mrs. Caldwell didn't want to be a teacher. But, when she met her art teacher, she saw what a great teacher she was, and wanted to be a good teacher too. If she hadn't become a teacher she would've been the first woman in the NBA or a vet.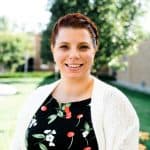 She has been to many colleges on her way to graduating at U of M in Flint.
After working in Flint for two years, Mrs. Caldwell came here.
While having given someone a failing grade in a different school, I'm happy to report that she hasn't failed anyone at Calvin. She believes in second chances and improvement. She says: don't be too hard on yourself. She gives the same advice for someone struggling with their faith: There are highs and lows, definitely stay with people that went through that. Talk to God. This will help you so much in your faith journey.
Mrs. Caldwell loves the art department, but when she's not here, her favorite thing to do, (besides naps of course) is spending time with her husband and two cats: Mascot and Mittens, aka fat girl. She likes to watch TV, go video game and book shopping. So if you want to treat your favorite art teacher, just get her anything to do with cats!
Mrs. Caldwell is an amazing teacher, and all her students love her. She loves meeting new people, so don't be afraid to go talk to our amazing art teacher.