You've probably seen acai bowls filling up your Instagram feed. But what IS an acai bowl?  Picture a smoothie in a bowl topped with granola, peanut butter, and all other kinds of toppings.
Ever since May, you can now get an acai bowl right here in Grand Rapids. Fruition Acai and Juice Bar was opened by two sisters who wanted to create a healthy grab-and-go option for breakfast and lunch. The restaurant is located on Lake Dr. in East Grand Rapids.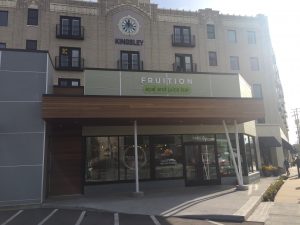 Their menu has varying acai bowls, fresh juices, smoothies, wraps, bagels, toasts, and oatmeal.
We paid a visit to Fruition mid-morning on a Thursday. It wasn't overly busy, and the staff was kind, helpful, and greeted regulars cheerfully. We tried out the fruition acai bowl (acai, granola, peanut butter, banana, strawberry, pineapple, kiwi, coconut, and honey), and the sun's up acai bowl (acai, granola, banana, strawberry, blueberry, and honey). Both were very tasty, but maybe not a good option if you don't like overly sweet things. The staff was great and helped us figure out what we wanted, and they made the bowls very quickly.
Fruition has free wifi and plenty of comfortable seating. The only downfall is the parking. There are only three spots close to the restaurant, and if you don't get one of those you have to park farther away on the street.
Overall, Fruition is a great place to grab a quick healthy meal or snack, and also a fantastic place to spend some time and study. With a positive atmosphere and delicious food, you'll be sure to enjoy your time there.