Every new school year comes with changes. So far this year, we're adjusting to new teachers, a new schedule, new freshmen, and also renovated spaces in our school. One of the most visually stunning modifications happened in Room 97, as the room transformed from a random assortment of chairs to a space with purpose.
Room 97 has been an undefined area in recent years. It formerly served as the study hall room, but the construction of the LC brought study hall students elsewhere. Room 97 is one of the few rooms in the school with AC, and it so it was often used as by classes as a respite from the heat, since classes now begin in the middle of August. Over the years, the room's rather distinctive smell grew, as did the collection of random, mismatched chairs that filled it.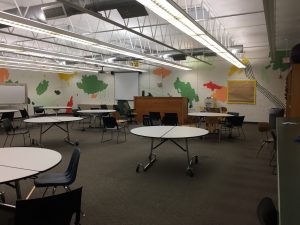 This year, Mrs. Ensink saw a new vision for the room. A few weeks before school started, she asked Gwyn Eisma, class of 2021, and her sister Gabrielle, alumni, to showcase their artistic abilities across the walls in the space. Gwyn and Gabbie spent eight days painting the new mural in Room 97, which features bright splashes of abstract green, orange, red, and yellow across fresh, white walls that brighten the room.
The Eisma sisters took their inspiration from Heather Day, a San Francisco artist who recently spent time in Grand Rapids. Day painted an abstract mural for the Urban Institute of Contemporary Art that inspired the pair.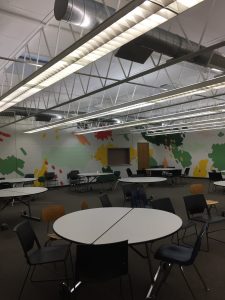 The most challenging part of the mural was preparing the space, according to Gwyn. They first had to prime over the existing oil paint, paint everything white, and then add the mural on top. Despite their time crunch, Gwyn enjoyed working on the project. She and Gabbie were able to make things up as they went along and be spontaneous with their choice of colors and shapes. "It was such a large scale, which made it fun to just splatter paint all over the walls," Gywn commented.
The assortment of chairs (some of which seemed to be as old as the room) have been replaced by a matching set, and the new tables were put in. Room 97 is now open to students at lunch, and it returns to its original purpose of a study hall room on Tuesdays while the LC is occupied by chapel. Due to the hard work of the Eisma sisters, the space has become an inviting place for students to eat and hang out.